Welcome to the enchanting island of Maui, where tropical paradise meets warm hospitality in the form of charming bed and breakfast accommodations. Nestled amidst breathtaking landscapes and surrounded by crystal-clear waters, Maui's bed and breakfasts offer an idyllic escape for those seeking a truly unforgettable vacation.
Indulge in the ultimate relaxation as you awaken each morning to the gentle sounds of nature and savor a delectable homemade breakfast prepared with love. These intimate establishments provide a refreshing alternative to traditional hotels, offering personalized service and an authentic taste of local culture. From cozy cottages tucked away in lush gardens to elegant Victorian-style homes boasting panoramic ocean views, there is no shortage of options when it comes to selecting your perfect home away from home.
Uncover hidden gems off the beaten path as your hosts share their insider knowledge and guide you towards extraordinary experiences. Immerse yourself in the vibrant island life, whether it's exploring pristine beaches with world-class snorkeling spots or embarking on exhilarating hikes through verdant rainforests. After a day filled with adventure, return to your B&B oasis where warmth and comfort await – perhaps indulging in a soothing soak under starlit skies or simply unwinding on a private lanai while basking in awe-inspiring sunsets.
Maui's bed and breakfasts are not just places to rest your head; they are gateways into the heart and soul of this magical destination. Join us on this journey as we embark on an exploration of these delightful abodes that promise cherished memories that will last a lifetime.
Top B&Bs in Maui
Bamboo Valley Inn (Haiku)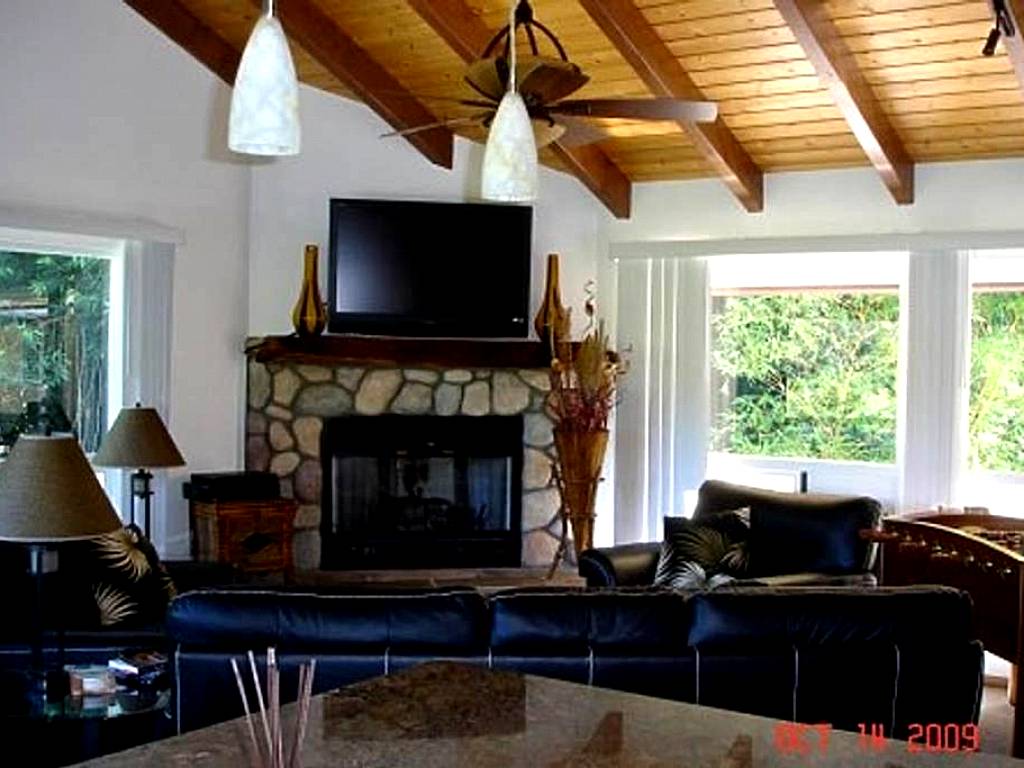 Bamboo Valley Inn is a charming bed and breakfast located in the beautiful region of Haiku, Hawaii. This cozy inn offers guests comfortable accommodation with modern amenities, including free WiFi and free private parking. Each unit at Bamboo Valley Inn boasts air conditioning and a flat-screen TV for a relaxing stay. The inn's convenient location allows guests to explore nearby attractions such as the breathtaking Iao Valley State Park, just 34 km away, and the scenic Wailea Emerald Course, situated 47 km from the property. For added convenience, Kahului Airport is only 18 km from Bamboo Valley Inn.
– Free WiFi throughout the property
– Complimentary private parking
– Air conditioning in all units
– Flat-screen TVs for entertainment
– Close proximity to popular attractions
Maui Beach House B & B (Kahana)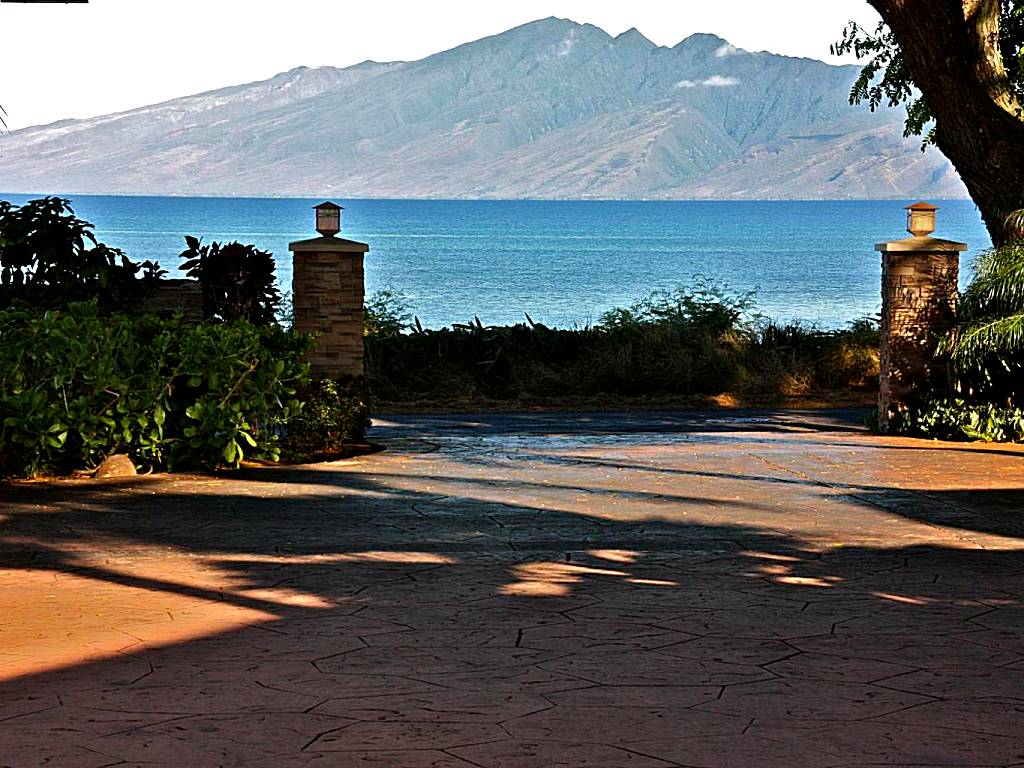 Located in the beautiful beachfront setting of Kahana, Maui Beach House B & B is a charming bed and breakfast offering a relaxing getaway for guests. The property is conveniently situated 33 km from Paia and 12 km from Lahaina, with Kapalua Airport just 3.2 km away. Each air-conditioned room at this B&B features modern amenities including a flat-screen TV and Blu-ray player. Some rooms also include a cozy seating area for guests to unwind in. Every room has a private bathroom with either a bath or shower. The surrounding area offers various activities such as golfing and horse riding, ensuring there is something for everyone to enjoy during their stay. With Kula located 42 km away and Kihei just 31 km away, there is plenty to explore beyond the hotel grounds. For added convenience, Kahului Airport can be reached within 27 km from Maui Beach House B & B.
– Stunning beachfront location
– Modern amenities including flat-screen TVs and Blu-ray players
– Cozy seating areas in select rooms
– Convenient access to nearby attractions like Paia and Lahaina
– Various activities available nearby such as golfing and horse riding
God's Peace of Maui (Makawao)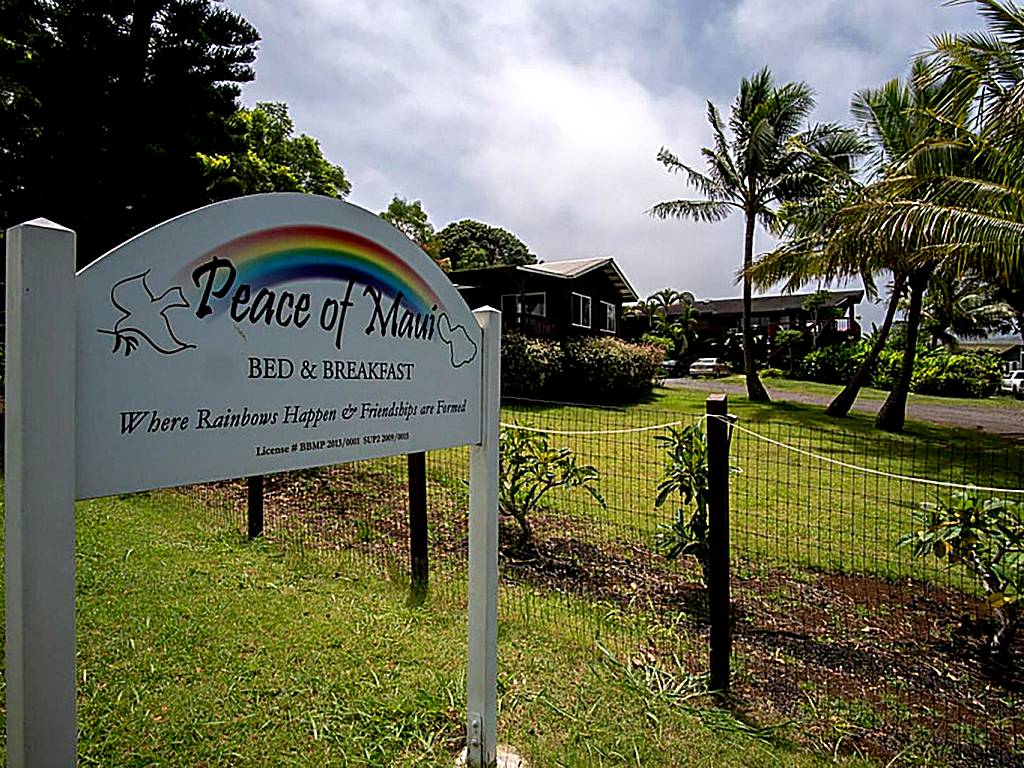 God's Peace of Maui is a charming bed and breakfast located just a short drive away from the historic town of Makawao and the beautiful beaches of Pa'ia. This cozy inn offers both private rooms and shared facilities, perfect for guests looking for a comfortable and affordable stay. The rooms at God's Peace of Maui provide stunning ocean and mountain views, and each room comes equipped with a refrigerator, alarm clock, and closet. Some rooms even feature a balcony or private entrance, adding an extra touch of privacy to your stay. Guests can enjoy the convenience of free WiFi throughout the property, as well as a make-your-own light breakfast to start your day off right. Additionally, there is a shared kitchen available for guests who prefer to prepare their own meals. The highlight of this bed and breakfast is undoubtedly its hot tub and outdoor hangout area, where guests can relax and unwind while taking in the breathtaking scenery. With its convenient location near local attractions like Makawao Park and Kahului Airport just 11 km away, God's Peace of Maui is the ideal choice for travelers seeking tranquility amidst natural beauty.
– Convenient location near Makawao town
– Stunning ocean & mountain views from select rooms
– Free WiFi throughout the property
– Hot tub & outdoor hangout area available for guests
– Shared kitchen facilities
Other places to stay in Maui
Bed & Breakfasts in Downtown Maui
Downtown Maui offers a charming selection of bed and breakfasts, providing travelers with a cozy and personalized experience. These accommodations allow guests to immerse themselves in the local culture while enjoying comfortable lodgings and warm hospitality.
Banyan Tree B&B Retreat (Makawao)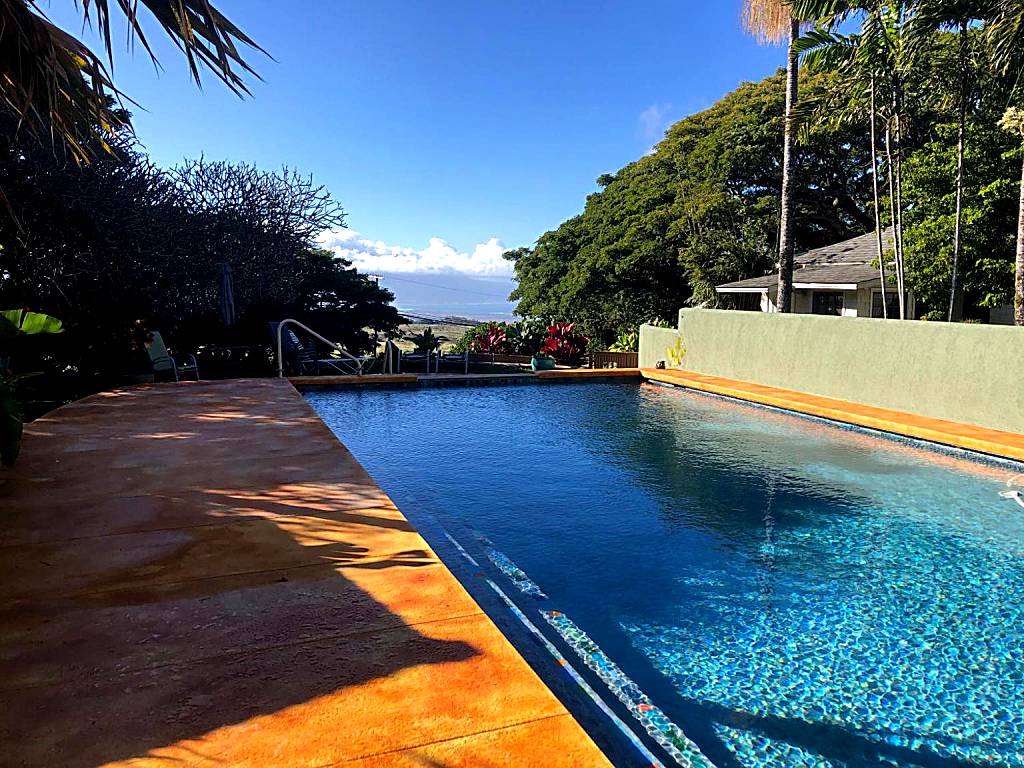 Nestled in the charming town of Makawao on the beautiful island of Maui, Hawaii, Banyan Tree Bed and Breakfast Retreat is a beachfront paradise. This cozy B&B offers a relaxing atmosphere with its outdoor pool overlooking the ocean. Guests can start their day with a delicious complimentary breakfast and enjoy free WiFi and convenient kitchenette facilities in all rooms. Each room features a flat-screen TV and barbecue facilities, while select rooms also offer a full kitchen. The property sits on 2 acres of lush gardens, providing plenty of space to unwind by the poolside hot tub or lounge in the shared area. For those seeking rejuvenation, Banyan Tree B&B even boasts a 700 sq. ft. yoga studio for guests' use. With free parking included, this retreat is an ideal base for exploring the island's attractions such as Ho'okipa Beach Park (11 km away) or visiting nearby Alexander & Baldwin Sugar Museum (18 km away). Kahului International Airport is conveniently located just 20 minutes' drive from the B&B.
Pros:
– Beachfront location
– Charming ambiance
– Outdoor pool overlooking the ocean
– Free breakfast provided
– Yoga studio available
Wailuku Guesthouse (Wailuku)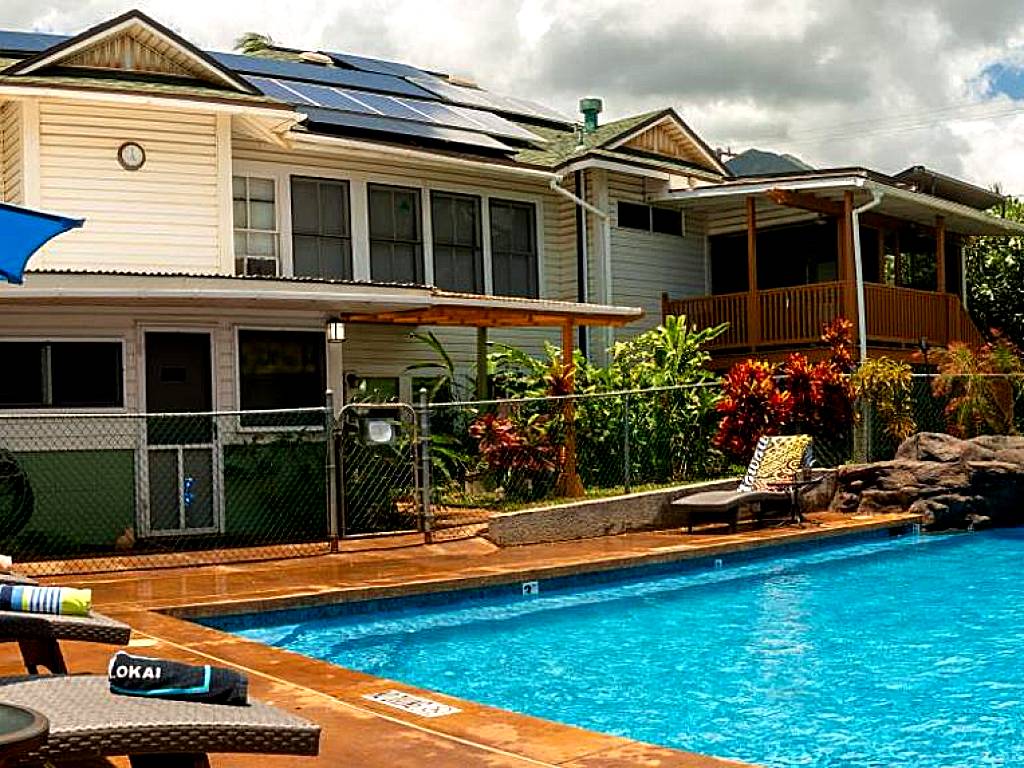 Located in Wailuku, the Wailuku Guesthouse is a charming bed and breakfast that offers a comfortable and convenient stay. This guest house is close to the beach front and boasts a central location, making it easy for guests to explore all that the area has to offer. The property features an outdoor swimming pool, garden, terrace, and water sports facilities. Guests can enjoy barbecue facilities as well. The guest rooms are equipped with amenities such as air conditioning, flat-screen TVs with cable channels, refrigerators, coffee machines, showers, free toiletries, and wardrobes. Some rooms also offer mountain views. Free WiFi is available throughout the property and bed linen and towels are provided in all rooms. For those who love outdoor activities, popular options include hiking and snorkeling in the surrounding area. Additionally, car hire services are available for guests' convenience. With its proximity to various attractions such as Wailea Emerald Course (28 km), Iao Valley State Park (5 km), Lahaina Boat Harbor (35 km), and Lahaina Historic District (35 km), Wailuku Guesthouse serves as an ideal base for exploring all that Wailuku has to offer.
Pros of staying at Wailuku Guesthouse:
– Convenient central location
– Close proximity to the beach front
– Outdoor swimming pool
– Beautiful garden area
– Water sports facilities
Noahs Hideaway Luxury B&B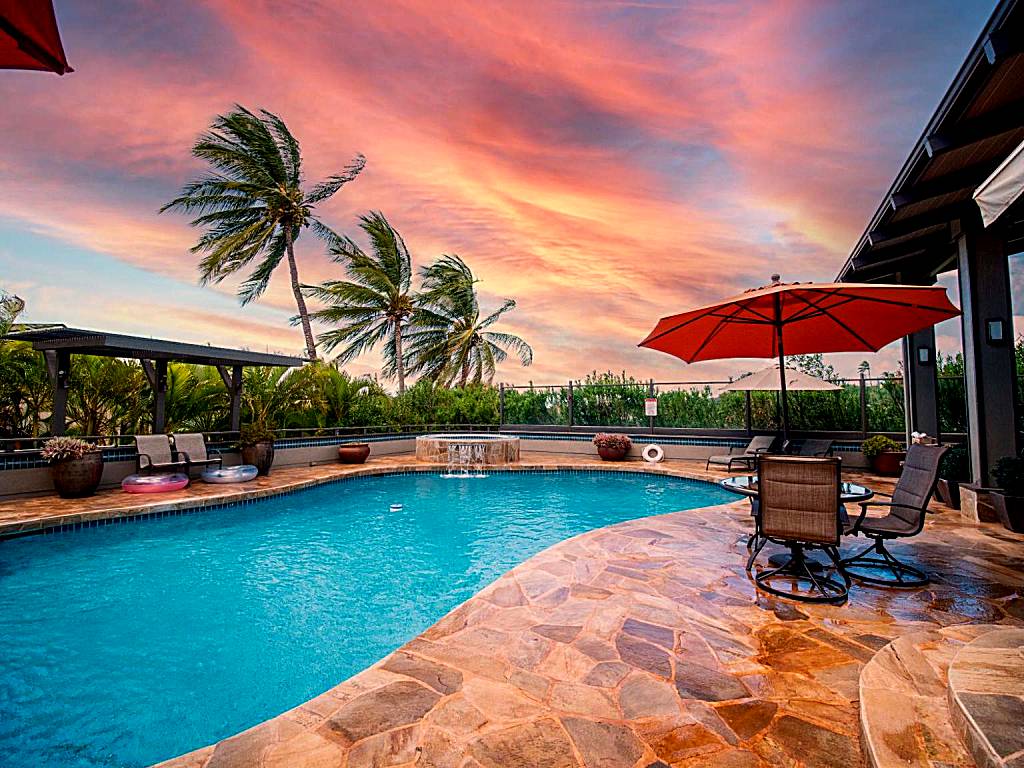 Noahs Hideaway Luxury B&B is a charming bed and breakfast located in Lahaina, Hawaii. Situated just 1.3 km from Hanakaoo Beach Park, this accommodation offers guests a luxurious retreat with an array of amenities. The B&B features free WiFi, BBQ facilities, and an outdoor swimming pool for guests to enjoy. Additionally, there is a hot tub available for relaxation. The units are beautifully designed with a patio and include air conditioning, a flat-screen TV, and a private bathroom complete with shower and complimentary toiletries. Guests can also make use of the provided fridge, microwave, minibar, coffee machine, and kettle for added convenience. For entertainment options on-site, billiards is available or guests can explore the surrounding area by going hiking or fishing. The bed and breakfast also boasts a sun terrace where visitors can relax and soak in the picturesque views. Noahs Hideaway Luxury B&B is conveniently located near popular attractions such as Kaanapali Beach, Alii Kahekili Beach, and Kaanapali Golf Courses. For those arriving by air, Kahului Airport is 42 km away.
– Free WiFi throughout the property
– Outdoor swimming pool for refreshing dips
– Hot tub for ultimate relaxation
– Convenient BBQ facilities
– Close proximity to beautiful beaches & golf courses
Cheap Guest Houses in Maui
Cheap guest houses in Maui offer budget-friendly accommodations without compromising on comfort. These cozy and affordable options provide a no-frills experience, allowing guests to explore the beauty of the island while enjoying a comfortable place to stay.
Kula Lodge (Kula)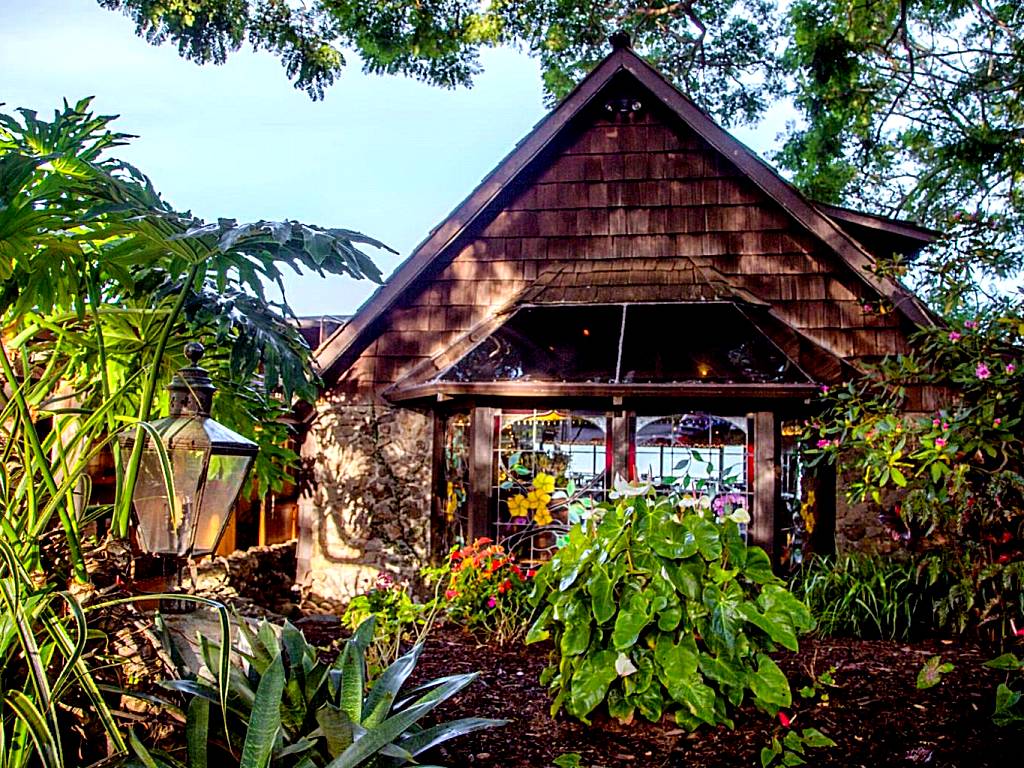 Located in Kula, the charming Kula Lodge offers guests a memorable bed and breakfast experience surrounded by beautiful scenery. The lodge features comfortable accommodations with private bathrooms, complete with showers, complimentary toiletries, and hairdryers. Guests can enjoy free WiFi throughout the property. Indulge in delicious meals at the on-site restaurant or relax in the inviting garden or terrace areas. Additionally, there is a bar where visitors can unwind and socialize after a day of exploring. Outdoor enthusiasts will find plenty of opportunities for hiking and cycling nearby, including Iao Valley State Park just 35 km away. Golf enthusiasts will appreciate the convenience of Wailea Emerald Course being only 48 km from the lodge. For those looking to soak up some sun, Kihei Regional Park is also within close proximity at 44 km away. Travelers flying into Maui will find Kahului Airport a convenient 22 km from Kula Lodge.
– Charming bed and breakfast experience
– Beautiful garden and terrace areas
– Convenient location near popular attractions
– Delicious on-site restaurant
– Complimentary WiFi throughout the property
The Plantation Inn – Free Breakfast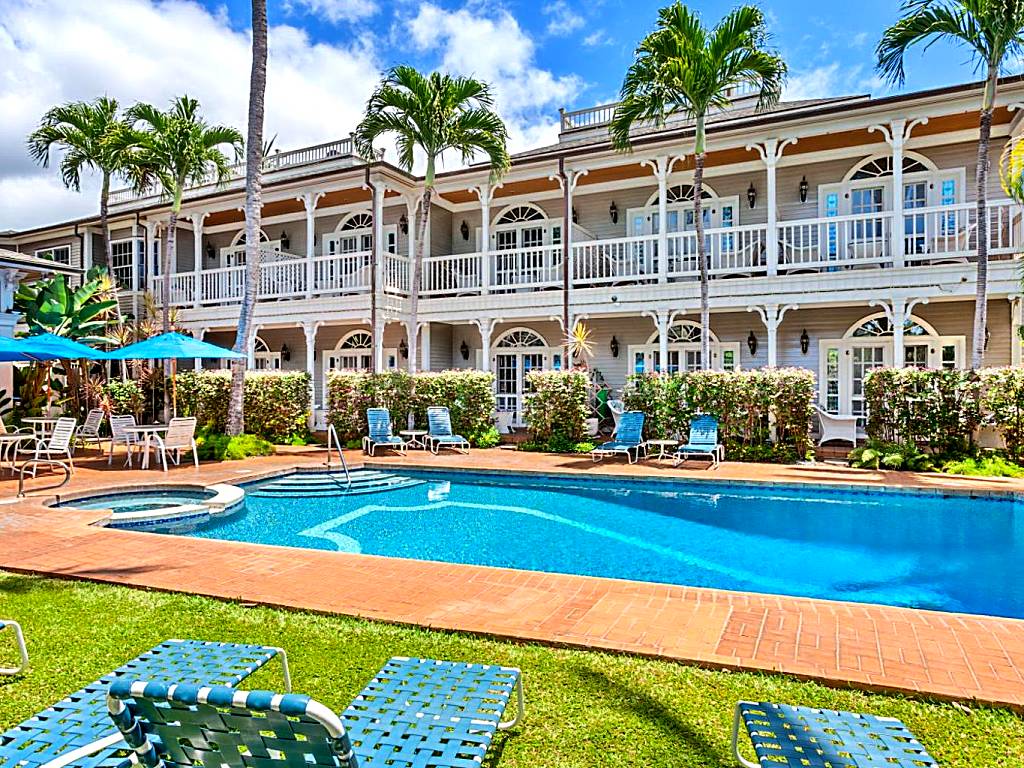 The Plantation Inn is a charming bed and breakfast inn located in Lahaina, Hawaii. Situated just steps away from the beachfront and the bustling shops and restaurants of Front Street, this delightful property offers a free breakfast that can be savored each morning on the veranda, lounge, or garden area. The inn features an inviting outdoor pool and hot tub surrounded by a beautifully landscaped lawn adorned with tropical palms and ferns. For added convenience, guests can take advantage of the complimentary on-site parking and wireless internet access available throughout the property. With its tranquil ambiance and proximity to various dining options, The Plantation Inn is an ideal retreat for adults seeking relaxation in paradise.
– Close proximity to beachfront
– Inviting outdoor pool and hot tub
– Complimentary on-site parking
– Free wireless internet access in all guestrooms
– Convenient location near a variety of restaurants within walking distance
Maui Bed and Breakfasts Information
| | |
| --- | --- |
| 🛎️ B&Bs in Maui | 8 |
| 🥇 Average Review Score | 8.7/10 |
| 🛏️ Average number of Rooms | 6 |
| 💵 Average price | 586 |
Our Recommended Bed and Breakfasts in Maui
| | |
| --- | --- |
| Noahs Hideaway Luxury B&B | 10/10 |
| Bamboo Valley Inn (Haiku) | 9.9/10 |
| Banyan Tree B&B Retreat (Makawao) | 9.4/10 |
| The Plantation Inn – Free Breakfast | 9.3/10 |
| Wailuku Guesthouse (Wailuku) | 8.4/10 |
FAQ
What are the top attractions in Maui?
Maui is known for its stunning natural beauty, and there are several must-visit attractions on the island. Explore the famous Road to Hana, which offers breathtaking views of waterfalls, lush rainforests, and beautiful coastal scenery. Don't miss out on visiting Haleakala National Park to witness a magical sunrise above the clouds or embark on an adventure to Molokini Crater for some exceptional snorkeling. Maui also offers opportunities for whale watching during peak season and enjoying scenic drives along the coastline.
What amenities do most bed and breakfasts in Maui provide?
Most bed and breakfasts in Maui offer a range of amenities to ensure a comfortable stay for their guests. Common amenities include complimentary Wi-Fi access, private bathrooms, air conditioning or ceiling fans, television with cable or satellite channels, cozy sitting areas or lounges, outdoor spaces such as gardens or patios to relax in, delicious homemade breakfast options made with local ingredients, and helpful concierge services that can assist with booking activities or providing recommendations.
What is the best time of year to visit Maui?
Maui enjoys pleasant weather throughout the year but choosing the best time to visit depends on your preferences. The peak tourist season falls between December and March when visitors flock to escape cold winter months elsewhere. April through May and September through November offer more affordable rates while still having favorable weather conditions with fewer crowds. However, if you're specifically interested in witnessing humpback whales during their migration season, plan your trip between December and April.
Are there any cultural experiences near bed and breakfasts in Maui?
Absolutely! Staying at a bed and breakfast in Maui provides an excellent opportunity to immerse yourself in Hawaiian culture. Many B&Bs organize traditional Hawaiian music performances or hula dance lessons for their guests. You can also explore nearby historical sites like Lahaina's Front Street filled with charming art galleries and local shops, or visit the Baldwin Home Museum to learn about Maui's missionary history. Don't forget to try traditional Hawaiian dishes like poi, lomilomi salmon, or kalua pig for a truly authentic culinary experience.
What outdoor activities are available near bed and breakfasts in Maui?
Maui is a paradise for outdoor enthusiasts, offering a wide range of activities near bed and breakfast accommodations. From swimming and snorkeling in crystal-clear waters to surfing on world-renowned waves, there's something for everyone. You can also go hiking along scenic trails such as the Pipiwai Trail in Haleakala National Park or explore the lush Iao Valley State Park. For golf enthusiasts, numerous championship-level courses await you with breathtaking ocean views. And if relaxation is what you seek, simply unwind on one of Maui's beautiful beaches while soaking up the sun.
Popular B&B destinations