Welcome to the charming city of Tucson, nestled in the heart of Arizona's Sonoran Desert. If you're seeking a unique and intimate lodging experience, look no further than the delightful bed and breakfasts that dot this vibrant destination. With their warm hospitality, personalized service, and cozy ambiance, these boutique accommodations offer an authentic taste of Tucsonian living.
Tucson's bed and breakfast establishments embody the essence of comfort, tranquility, and elegance. Imagine waking up to breathtaking desert views as soft rays of sunlight filter through your window. As you step out onto your private patio or veranda, take in the invigorating scents of vibrant desert flora mingled with freshly brewed coffee. The innkeepers' attention to detail ensures that every part of your stay is tailored to perfection – from gourmet breakfasts prepared with locally sourced ingredients to thoughtfully decorated rooms adorned with Southwest-inspired artwork.
Staying at a bed and breakfast in Tucson allows you unparalleled access to explore all that this captivating city has to offer. Take a leisurely stroll through historic neighborhoods lined with adobe buildings steeped in rich culture and heritage. Discover renowned art galleries showcasing contemporary works alongside traditional Native American masterpieces. Indulge your taste buds at local eateries serving up tantalizing flavors influenced by global cuisines.
Whether you're seeking a romantic getaway or simply crave an escape from the ordinary, Tucson's bed and breakfasts provide an oasis amidst the mesmerizing beauty of the desert landscape. So pack your bags, embrace the spirit of adventure, and immerse yourself in the warmth and charm that only these hidden gems can offer.
Top B&Bs in Tucson
Adobe Rose Inn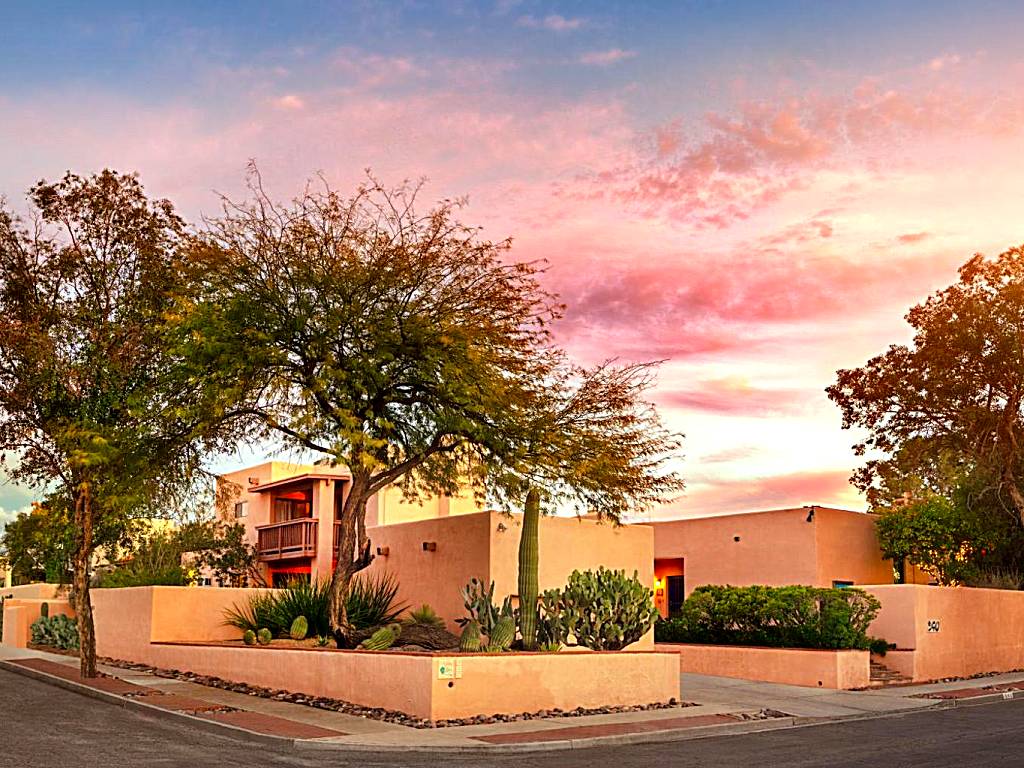 Located in the historic Sam Hughes Neighborhood, Adobe Rose Inn is a charming and centrally located bed and breakfast. Built in 1933, this adobe styled inn offers uniquely furnished rooms with amenities such as cable TV, free Wi-Fi, a work desk, and free toiletries. Most of the rooms boast a cozy fireplace, adding to the warm ambiance of the inn. Guests can start their day with a delicious 3-course breakfast before exploring the nearby attractions like the University of Arizona or relaxing by the outdoor swimming pool. The friendly staff is always accommodating to special dietary needs and can arrange for vegan options upon request. With its convenient location and comfortable rooms, Adobe Rose Inn is an ideal choice for travelers seeking a memorable stay in Tucson.
– Super central location
– Friendly and accommodating staff
– Outdoor swimming pool
– Cozy fireplaces in most rooms
– Delicious 3-course breakfast
Windfeather Resort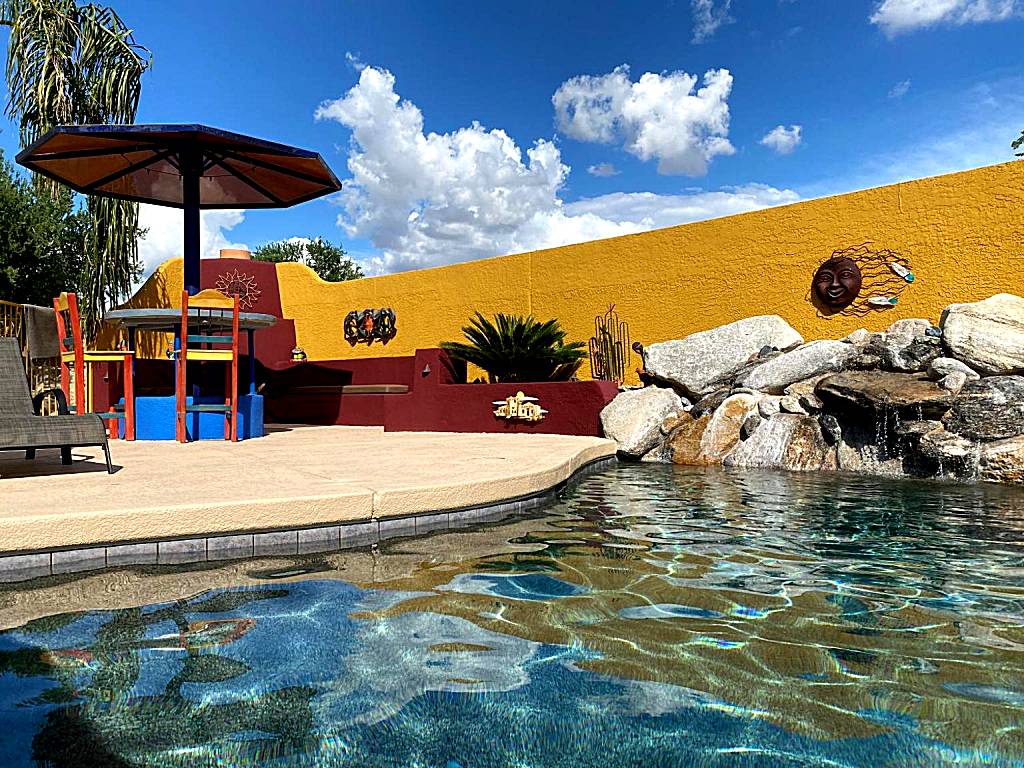 Located in Tucson, Windfeather Resort is a charming guest house that offers a relaxing and luxurious stay for its guests. The resort features an outdoor swimming pool where guests can cool off and unwind, as well as free WiFi and private parking for convenience. With its proximity to popular attractions such as the Tucson Convention Center, Arizona Stadium, Reid Park Zoo, and Pima Air & Space Museum, guests have plenty of options for entertainment. Each room at Windfeather Resort is equipped with modern amenities like air conditioning, a desk, a patio with stunning mountain views, a private bathroom, and a flat-screen TV. Some rooms even come with their own kitchenette complete with an oven, dishwasher, and stovetop. Guests can also take advantage of the shared kitchen facilities or choose to indulge in room service. After exploring all that Tucson has to offer, guests can relax in the hot tub or enjoy outdoor activities like skiing and cycling nearby. For those traveling by plane, Tucson International Airport is just 34 km away from this delightful guest house.
– Outdoor swimming pool for relaxation
– Free WiFi for convenience
– Proximity to popular attractions
– Well-equipped rooms with modern amenities
– Hot tub available for guests' enjoyment
Lodge On The Desert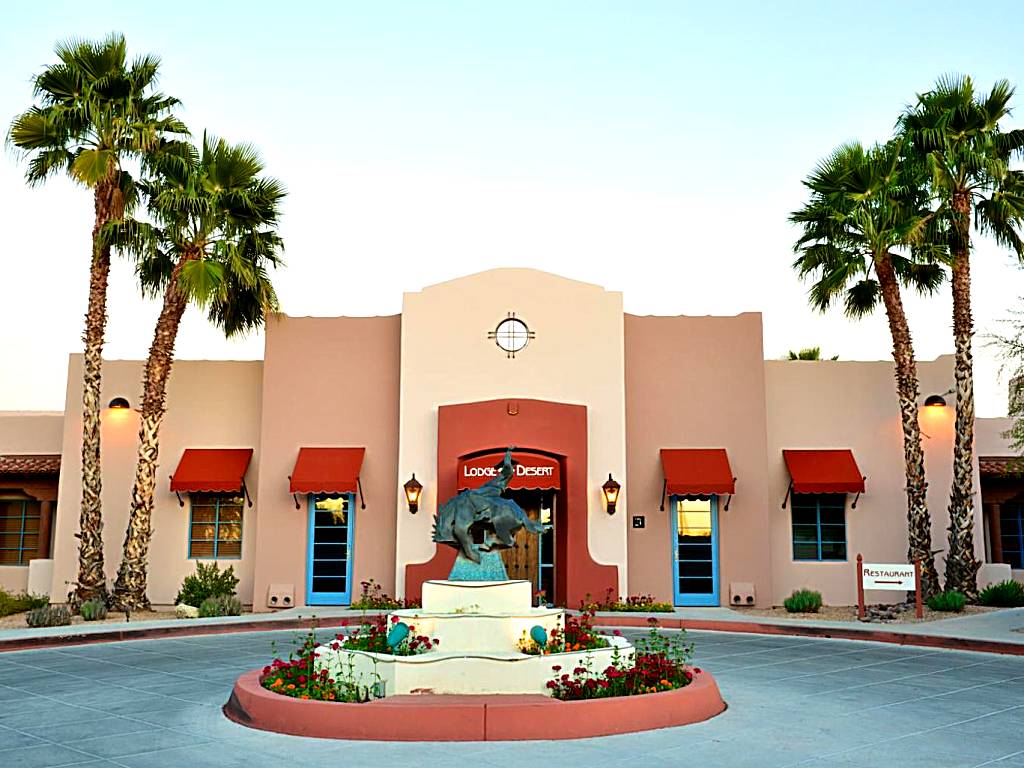 Located in a very central area, Lodge On The Desert is a charming hotel that offers guests a comfortable and convenient stay. With its on-site restaurant serving breakfast, lunch, and dinner daily, guests can indulge in delicious meals without having to venture far. The hotel features a year-round outdoor heated swimming pool and hot tub for ultimate relaxation. Each air-conditioned room includes free Wi-Fi, a flat-screen TV, and a seating area with a work desk. Coffee-making facilities, a small refrigerator, and an en suite bathroom with a hairdryer and bathrobe are also provided. Guests can enjoy beer, wine, and cocktails at the hotel's bar. For business travelers, there is a business center offering fax and photocopying services. Free parking is available for added convenience. Tucson International Airport is just 9 miles away from the hotel while the Randolph Golf Complex is only 5 minutes' drive away.
– Central location
– On-site restaurant serving meals throughout the day
– Year-round outdoor heated pool and hot tub
– Free Wi-Fi in all rooms
– Business center with fax and photocopying services
Other places to stay in Tucson
Bed & Breakfasts in Downtown Tucson
Downtown Tucson offers a charming selection of bed and breakfasts, providing guests with cozy accommodations and a personalized touch. Nestled amidst the city's vibrant streets, these B&Bs are known for their warm hospitality and delightful homemade breakfasts.
Bed & Breakfast Tucson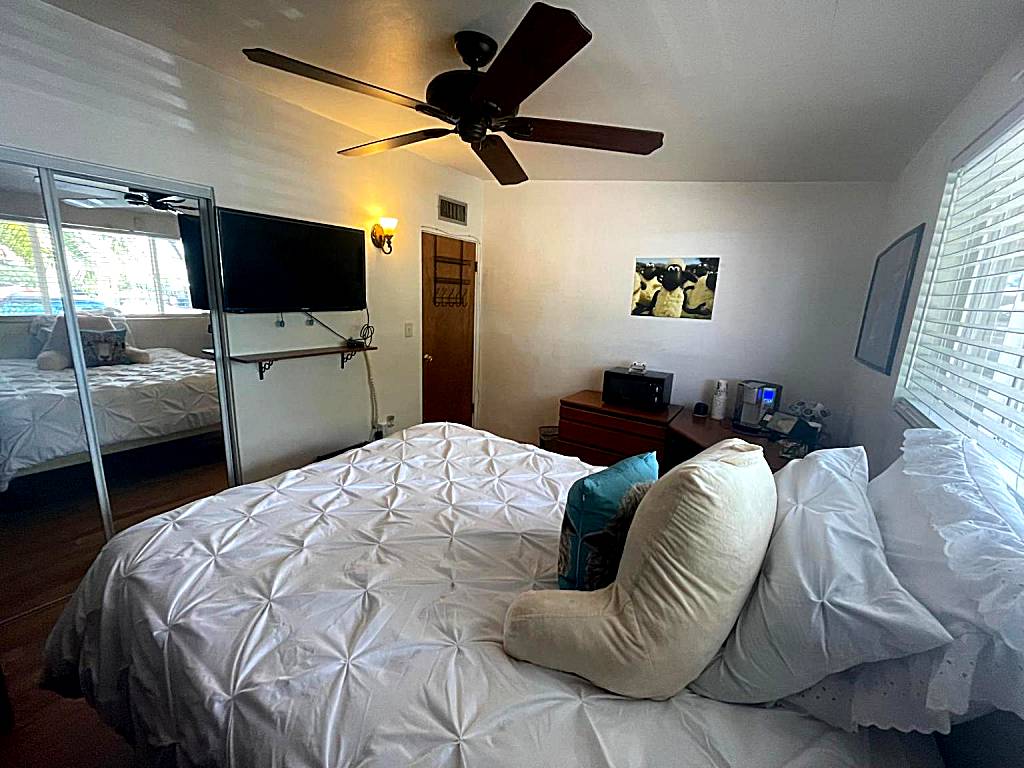 Bed & Breakfast Tucson offers a comfortable and cozy stay with stunning mountain views. The property provides free WiFi and private parking for guests. Each unit is equipped with air conditioning, a flat-screen TV, and a shared bathroom with complimentary toiletries. Guests can start their day with a delicious buffet breakfast. The bed and breakfast also features a garden where guests can unwind and relax. Conveniently located, the Tucson Convention Center is 10 km away, while Reid Park Zoo is 8.8 km from the accommodation. The nearest airport, Tucson International Airport, is only 17 km away.
– Comfortable beds
– Stunning mountain views
– Free WiFi and private parking
– Delicious buffet breakfast
– Convenient location near attractions
Mon Ami Bed and Breakfast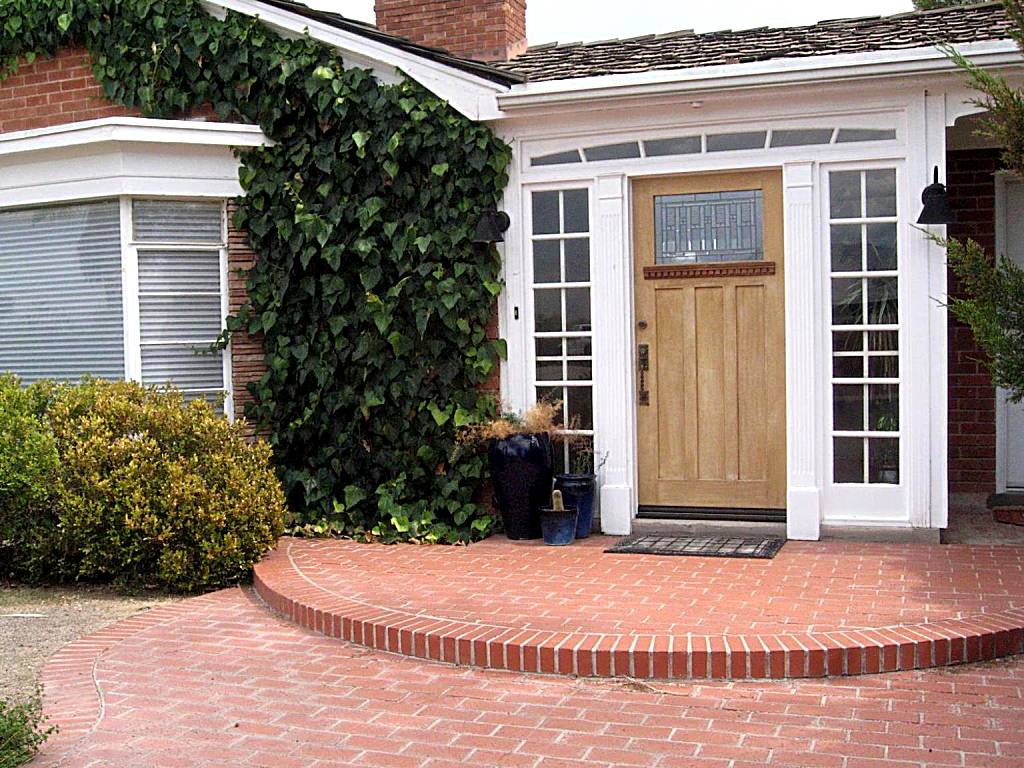 Mon Ami Bed and Breakfast is a trendy establishment conveniently located close to the beach front. Guests can enjoy a refreshing dip in the lap pool or relax in the hot tub. The rooms at Mon Ami feature mountain and garden views, as well as amenities such as cable TV, DVD players, and private entrances. A gourmet breakfast prepared by the renowned French chef Pat Sparks is served daily from 7:30 am to 8:30 am. The B&B also offers a patio with each room and free Wi-Fi and wired internet for guests' convenience. For nature enthusiasts, Sabino Canyon is just 8 miles away, while Saguaro National Monument East can be reached within a 25-minute drive.
Pros:
– Close proximity to the beach
– Trendy ambiance
– Lap pool and hot tub available for relaxation
– Rooms with mountain and garden views
– Gourmet breakfast prepared by award-winning French chef Pat Sparks
Tucson Bed and Breakfasts Information
| | |
| --- | --- |
| 🛎️ B&Bs in Tucson | 5 |
| 🥇 Average Review Score | 9.3/10 |
| 🛏️ Average number of Rooms | 16 |
| 💵 Average price | 388 |
Our Recommended Bed and Breakfasts in Tucson
| | |
| --- | --- |
| Windfeather Resort | 10/10 |
| Mon Ami Bed and Breakfast | 9.6/10 |
| Adobe Rose Inn | 9.5/10 |
| Lodge On The Desert | 8.7/10 |
| Bed & Breakfast Tucson | 8.6/10 |
FAQ
What are some popular bed and breakfasts in Tucson?
Tucson is home to several popular bed and breakfasts that offer unique experiences for visitors. One of the top choices is The Royal Elizabeth Bed & Breakfast Inn, located in a historic mansion with charming rooms and a relaxing courtyard. Another option is the Adobe Rose Inn, known for its Southwest-style architecture and beautiful gardens. The Big Blue House Inn is also highly recommended, featuring spacious suites and homemade breakfasts made with local ingredients.
Are there any pet-friendly bed and breakfasts in Tucson?
Yes, there are pet-friendly bed and breakfasts in Tucson that will gladly welcome your furry companions. One such example is The Historic Sam Hughes Inn, which allows well-behaved pets to stay with their owners for a small additional fee. Another option is The Jeremiah Inn Bed & Breakfast, which has designated pet-friendly rooms available upon request. It's always best to double-check the specific policies regarding pets before making a reservation.
What amenities can I expect at a typical bed and breakfast in Tucson?
Most bed and breakfast establishments in Tucson offer a range of amenities designed to enhance your stay. These often include complimentary Wi-Fi access throughout the property, private bathrooms with toiletries provided, cozy common areas where guests can relax or socialize, as well as daily homemade breakfast served either buffet style or à la carte. Some B&Bs may also have extras like outdoor swimming pools or hot tubs for guests' enjoyment.
Can I book activities or tours through my chosen bed and breakfast in Tucson?
Yes, many bed and breakfast establishments in Tucson offer assistance with booking activities or tours during your stay. They are often well-connected within their local communities and can provide recommendations based on your interests. Whether you're interested in exploring hiking trails nearby or taking part in cultural excursions within the city, don't hesitate to ask your hosts for assistance when planning your daily itinerary.
What is the best time of year to visit Tucson and stay at a bed and breakfast?
Tucson experiences pleasant weather for most of the year, making it an attractive destination for travelers. However, the best time to visit may depend on your preferences. The winter months from November to March offer mild temperatures and are popular with snowbirds looking to escape colder climates. Springtime, particularly April and May, showcases beautiful desert blooms. Summer can be hot but is ideal for those seeking lower rates or indoor activities. Ultimately, it's a good idea to consider what you want to do during your visit and choose accordingly.
Popular B&B's destinations