Welcome to the enchanting world of Bed and Breakfasts in the picturesque state of New Hampshire, located in the northeastern region of the United States. Get ready to embark on a delightful journey as we uncover hidden gems nestled amidst breathtaking landscapes. These charming accommodations offer a blend of warmth, coziness, and personalized hospitality that cannot be matched by traditional hotels or resorts.
Immerse yourself in the captivating beauty of New Hampshire's diverse terrain while experiencing unparalleled comfort at these distinctive B&Bs. Each one is carefully crafted to provide an intimate and unforgettable experience for travelers seeking solace from bustling city life. From historic Victorian mansions exuding old-world charm to quaint country cottages surrounded by lush greenery, these dwellings offer a perfect escape for those yearning for tranquility.
Prepare to wake up each morning enveloped in serenity and indulge your senses with delicious homemade breakfasts prepared with love and care. Engage in friendly conversations with fellow guests over steaming cups of coffee or explore nearby trails that lead you through pristine forests and mesmerizing mountain ranges. Whether you're seeking adventure or simply looking to unwind, New Hampshire's bed and breakfasts hold the key to an idyllic retreat that will leave you rejuvenated and longing for more.
Top B&Bs in New Hampshire
The Sailmaker's House (Portsmouth)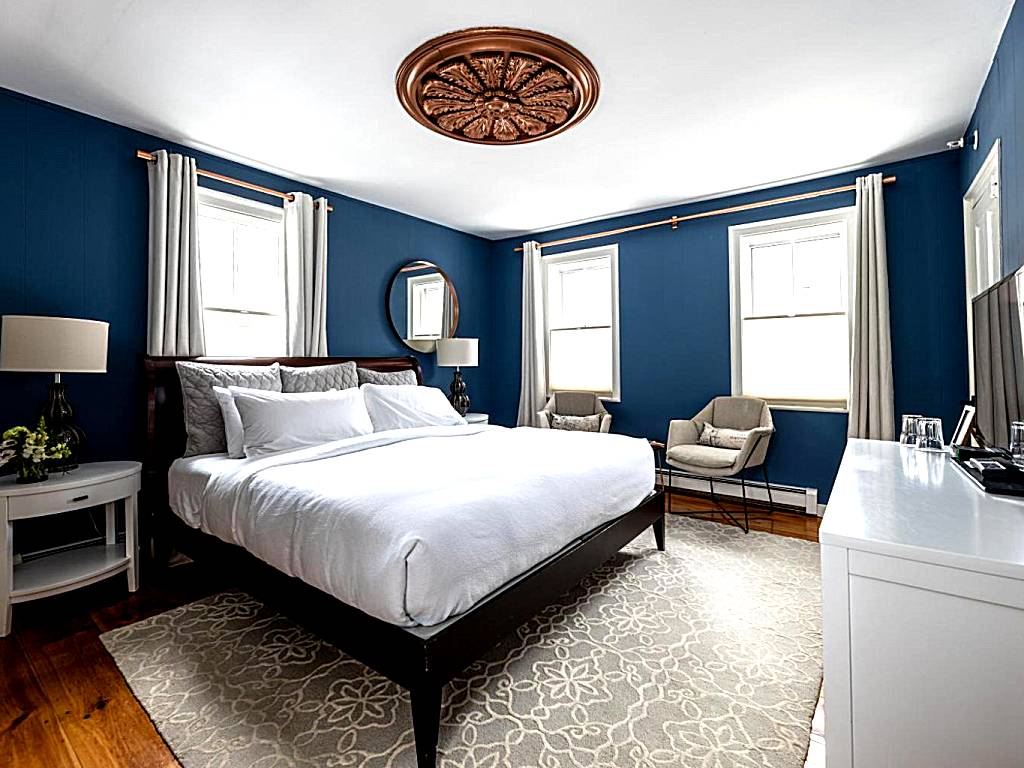 The Sailmaker's House in Portsmouth is a charming inn with a super central location, making it the perfect choice for travelers looking to explore the area. Situated just 26 km from popular attractions such as Ogunquit Playhouse, Mount Agamenticus, and Casino Ballroom, guests can easily access these must-visit destinations. The inn offers comfortable accommodations with free WiFi, private parking, and a shared lounge. Some rooms even come with balconies offering city views or terraces for guests to enjoy. With amenities such as iPod docking stations, flat-screen TVs, air conditioning, and complimentary toiletries in every room, guests are ensured a pleasant stay. The inn also provides bed linen and towels for added convenience. Plus, with the Ogunquit Museum of American Art and Perkins Cove both within 26 km from the property and Portsmouth International at Pease Airport just 7 km away, guests will have no shortage of things to see and do during their visit.
Pros:
– Super central location
– Comfortable accommodations
– Free WiFi
– Convenient amenities like iPod docking stations and flat-screen TVs
– Private parking available
The Maples at Warner (Warner)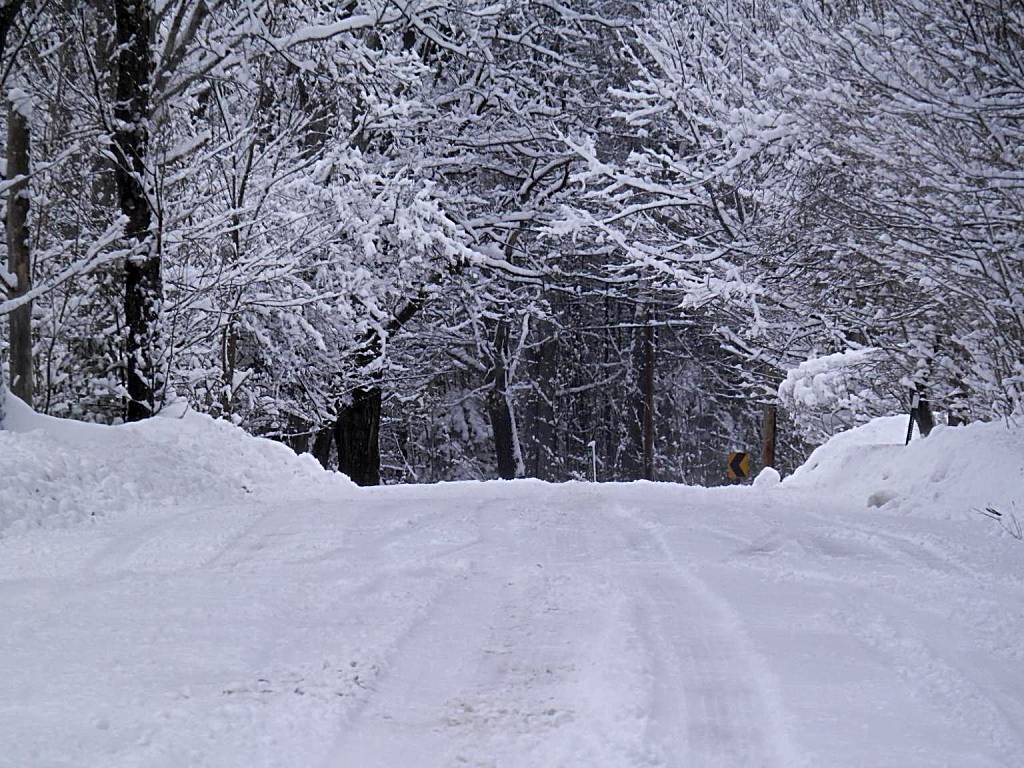 Located just off Interstate 89 and a short drive from the scenic Sunapee region, The Maples at Warner is a trendy bed and breakfast offering a charming stay in Warner, New Hampshire. This B&B features individually decorated rooms with free WiFi and a cozy seating area. Start your day with a delicious breakfast that includes hot coffee or tea, fresh fruit, and pastries. The themed rooms are adorned with beautiful wood furnishings and come with en suite bathrooms. Guests can enjoy the convenience of heating and air-conditioning in their rooms. The Maples also provides additional hot and cold food items for breakfast, ensuring you start your day on the right note. For those traveling on business, there is a well-equipped business center available with fax and photocopying services. If you need transportation to or from the airport, an airport shuttle service is offered as well. Take advantage of the hotel's proximity to attractions such as the Mount Kearsarge Indian Museum or spend your day swinging away at Kearsarge Valley Golf Course located just 10 miles away.
Pros:
– Convenient location near Interstate 89
– Trendy and stylish decor
– Free WiFi throughout the property
– Delicious breakfast with hot coffee/tea options
– Airport shuttle service available
13 Hills Bed & Breakfast (South Acworth)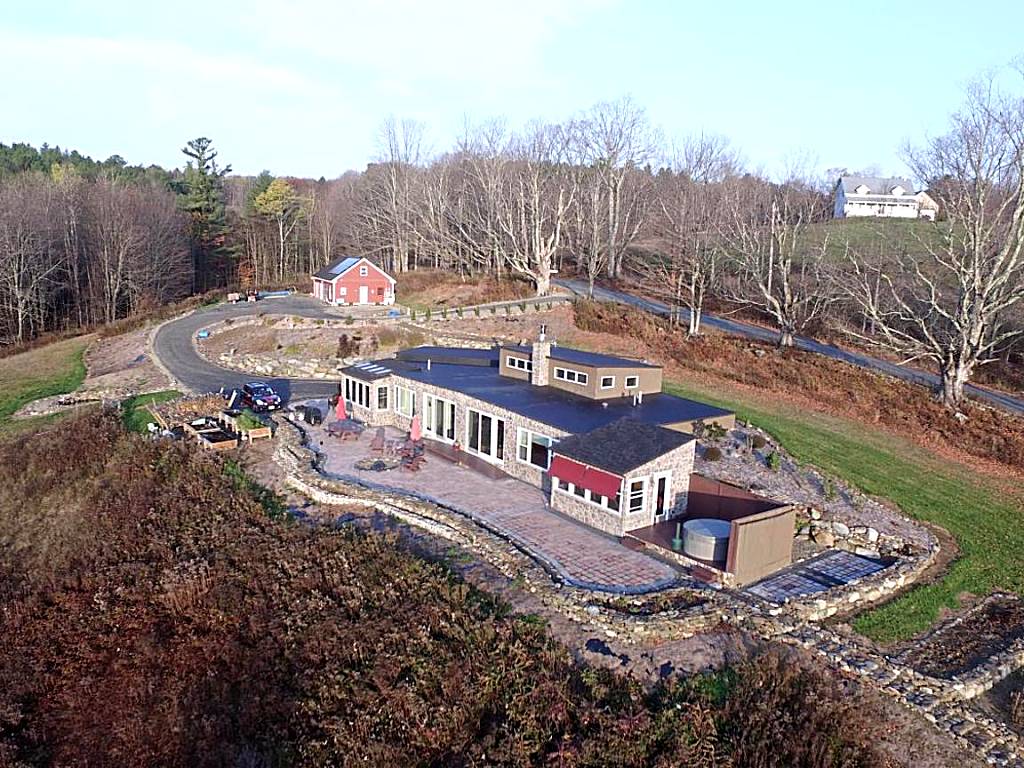 Located in the picturesque town of South Acworth, 13 Hills Bed & Breakfast is a unique and hip accommodation option for travelers seeking a cozy and intimate stay. This earth-sheltered house offers breathtaking views of the surrounding hills and provides guests with a range of amenities to ensure a comfortable stay. The property features a barbecue area and hot tub, perfect for relaxing and enjoying the serene atmosphere. With free WiFi throughout the property, guests can stay connected while taking advantage of recreational activities such as billiards and darts. The nearby hiking trails are popular among nature enthusiasts, offering opportunities to explore the beautiful surroundings. Each room at 13 Hills Bed & Breakfast is well-appointed with modern conveniences including a flat-screen TV, Blu-ray player, private bathroom with shower, bathrobes, slippers, and complimentary toiletries. Guests also have access to a shared kitchen during their stay. Whether you're seeking tranquility or adventure in South Acworth, 13 Hills Bed & Breakfast is an excellent choice for those looking for personalized service in an idyllic setting.
– Unique earth-sheltered house
– Breathtaking views of surrounding hills
– Barbecue area and hot tub available
– Recreational activities like billiards and darts
– Well-appointed rooms with modern amenities
Other places to stay in New Hampshire
Bed & Breakfasts in Downtown New Hampshire
Downtown New Hampshire offers a charming array of bed and breakfasts, perfect for a cozy and personalized stay. Guests can enjoy the warm hospitality, unique character, and homemade breakfasts that make these B&Bs stand out from traditional hotels.
The Lodge by Sunapee Stays (Sunapee)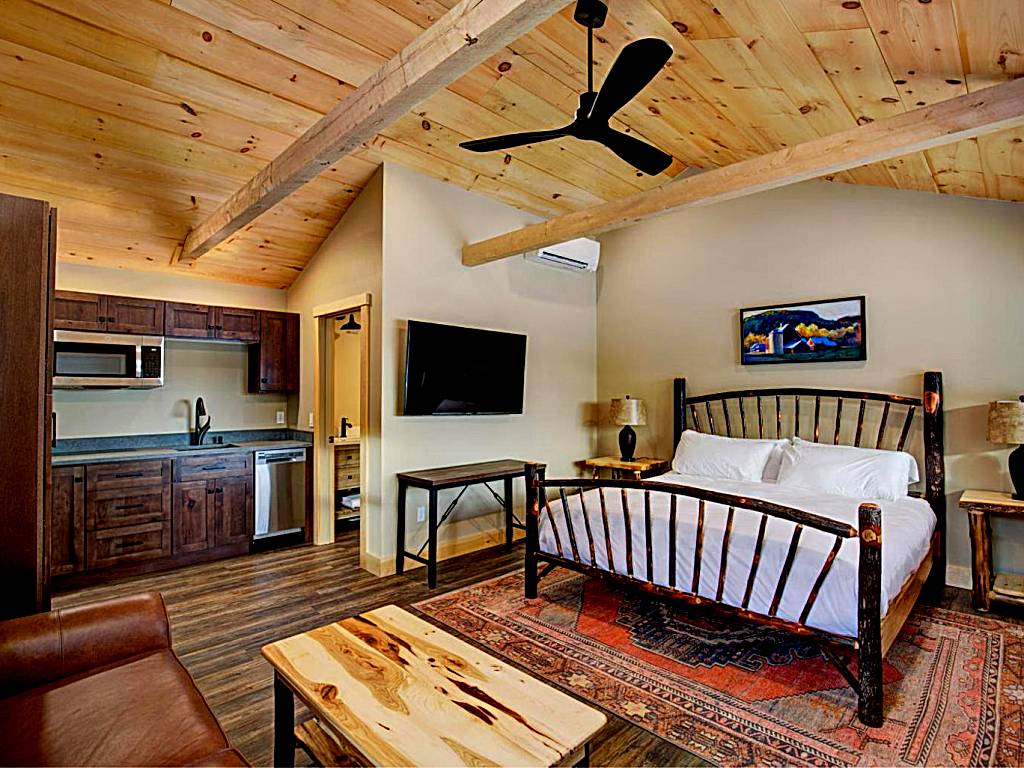 Located in the charming town of Sunapee, The Lodge by Sunapee Stays is a delightful inn/guest house that offers comfortable accommodation for travelers seeking a peaceful getaway. Situated just 20 km from Lake Sunapee Golf Course and 48 km from Dartmouth College, this hotel provides convenient access to popular attractions. The property boasts a seasonal outdoor swimming pool, perfect for relaxing and cooling off during the warmer months. Guests can also enjoy the convenience of free WiFi and private parking. With some rooms featuring patios with stunning mountain views, guests can truly immerse themselves in the natural beauty of the surrounding area. For added convenience, certain rooms are equipped with kitchenettes complete with a fridge, dishwasher, and microwave. Additionally, Mount Ascutney is just 44 km away from the inn and Lebanon Municipal Airport is conveniently located only 48 km away.
– Convenient location near popular attractions
– Seasonal outdoor swimming pool
– Free WiFi
– Free private parking
– Some rooms feature beautiful mountain views
Lincoln Log Cabins (Lincoln)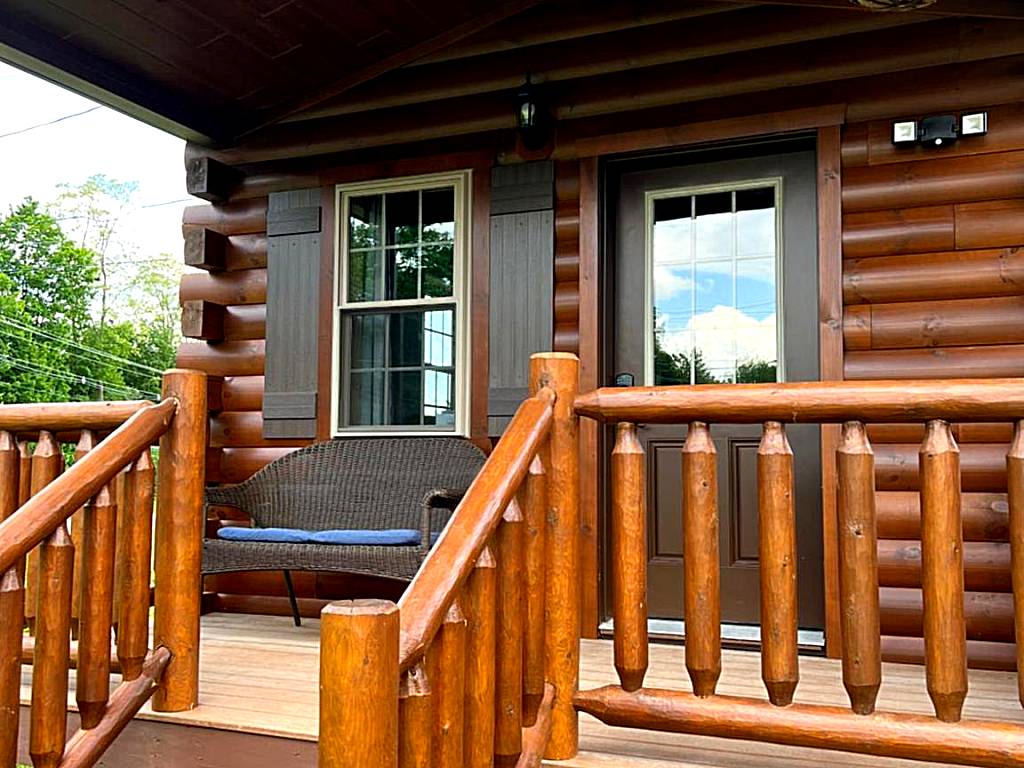 Located in the picturesque region of Lincoln, New Hampshire, Lincoln Log Cabins is a charming guest house that offers a cozy and comfortable stay. Situated just 20 km from Franconia Notch State Park and 15 km from Loon Mountain, this non-smoking property provides the perfect retreat for nature enthusiasts and outdoor adventurers. The well-appointed rooms are equipped with modern amenities such as air conditioning, flat-screen TVs, private bathrooms, and balconies offering breathtaking mountain views. Guests can also enjoy the convenience of having a fridge in their rooms. For those traveling by air, Lebanon Municipal Airport is the nearest airport to Lincoln Log Cabins, located 103 km away.
– Scenic location surrounded by nature
– Well-maintained and comfortable rooms
– Balconies with stunning mountain views
– Convenient amenities like air conditioning and flat-screen TVs
– Proximity to popular attractions like Franconia Notch State Park and Loon Mountain
Stephen Clay Homestead Bed and Breakfast (Candia)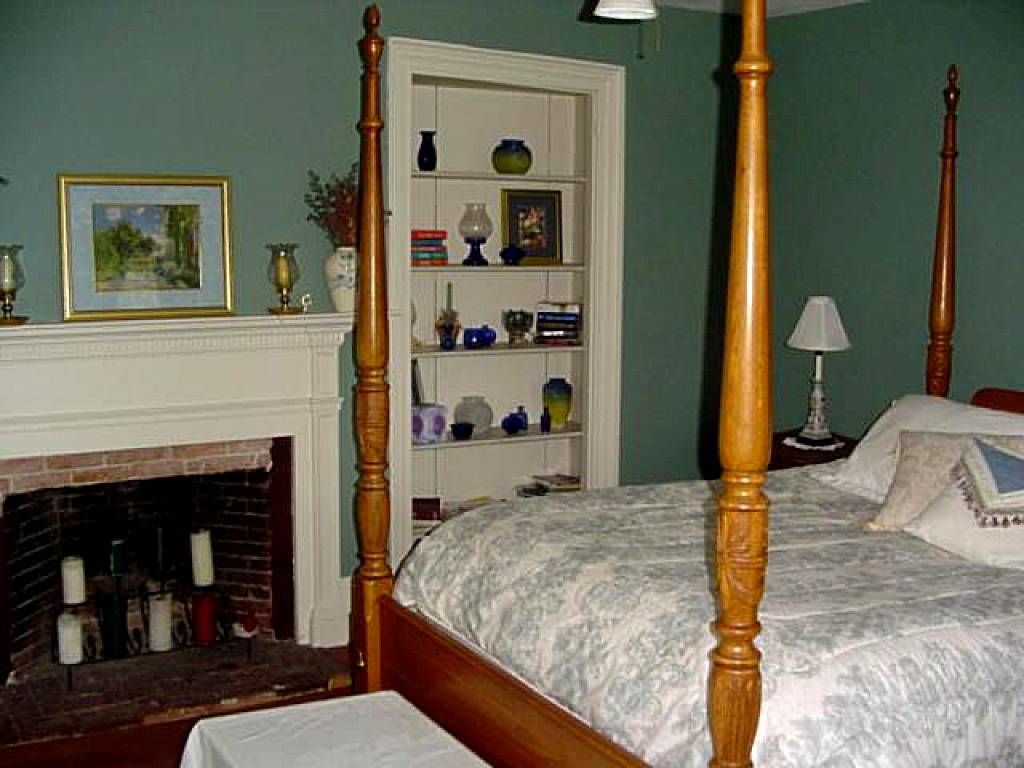 Located in Manchester, the Stephen Clay Homestead Bed and Breakfast offers comfortable beds and a charming atmosphere. Guests can enjoy free Wi-Fi access, as well as a garden and terrace. A delicious hot breakfast is served daily, and the staff can arrange various outdoor activities such as hiking, biking, canoeing, swimming, and fishing in nearby recreational areas. The quiet and private rooms feature air conditioning, a refrigerator, shared bathrooms with a bath and hairdryer, and stunning garden views. Additional amenities include fireplaces, desks, luxurious bathrobes, meeting facilities, a shared lounge area,and free parking with central air conditioning. With its convenient location 13.3 km from State Park and 16.5 km from Mall of New Hampshire, Stephen Clay Homestead provides guests with an ideal retreat to relax while being close to various attractions.
New Hampshire Bed and Breakfasts Information
| | |
| --- | --- |
| 🛎️ B&Bs in New Hampshire | 6 |
| 🥇 Average Review Score | 9.5/10 |
| 🛏️ Average number of Rooms | 12 |
| 💵 Average price | 995 |
Our Recommended Bed and Breakfasts in New Hampshire
| | |
| --- | --- |
| Lincoln Log Cabins (Lincoln) | 9.9/10 |
| Stephen Clay Homestead Bed and Breakfast (Candia) | 9.6/10 |
| The Lodge by Sunapee Stays (Sunapee) | 9.5/10 |
| The Maples at Warner (Warner) | 9.3/10 |
| The Sailmaker's House (Portsmouth) | 9.2/10 |
FAQ
What is a bed and breakfast?
A bed and breakfast, often referred to as a B&B, is a type of accommodation that offers overnight lodging along with breakfast in the morning. Unlike traditional hotels, bed and breakfast establishments are usually smaller in size and provide a more personalized experience for guests.
Why choose a bed and breakfast over a hotel?
Choosing a bed and breakfast over a hotel provides several advantages. Firstly, B&Bs offer unique and charming accommodations that are often housed in historic buildings. Secondly, they provide personalized service and attention to detail that can make your stay truly special. Additionally, many B&Bs serve homemade or locally sourced breakfasts, giving you an authentic taste of the region you are visiting.
What amenities can I expect at a New Hampshire bed and breakfast?
New Hampshire's bed and breakfast establishments vary in terms of amenities offered but typically include comfortable rooms with private bathrooms, complimentary Wi-Fi access, cozy common areas for relaxation or socializing with other guests, on-site parking facilities, and some may even have outdoor spaces such as gardens or patios for guests to enjoy.
Are New Hampshire bed and breakfasts suitable for families with children?
Yes! Many New Hampshire B&Bs warmly welcome families with children. Some establishments offer family-friendly amenities such as adjoining rooms or suites, cribs or extra beds upon request, board games or toys for children's entertainment, as well as baby-sitting services if needed. It's always advised to check directly with the B&B beforehand to ensure they can accommodate your specific needs.
Can I expect privacy at a New Hampshire bed and brеakfast?
Privacy is an important aspect of the Bed & Breakfast experience in New Hampshire. While these establishments promote social interaction among guests through shared common areas like dining rooms or lounges where you can meet fellow travelers if desired if you prefer solitude most B&Bs also offer private guestrooms where you can retreat and enjoy your own personal space.
Popular B&B's destinations